Summary: Building upon our previous two publications, our new book is co-authored by some of the leading experts within our own team. We walk through proven marketing tactics on digital advertising, chatbot technologies, video marketing, SEO, social, lead nurturing and more.
A painful reality for today's business owners is that average, run-of-the-mill digital marketing won't cut it. Today's strategies need to outperform your competition and resonate with customers. Unfortunately, these strategies are fairly complex and in a state of constant change.
A large part of our work at WSI is geared towards helping business owners navigate the digital space. So even though we're a full-service marketing agency, our educational and training programs are near and dear to each of our Consultants. After all, learning from and sharing knowledge with other like-minded businesses is what our network was built on.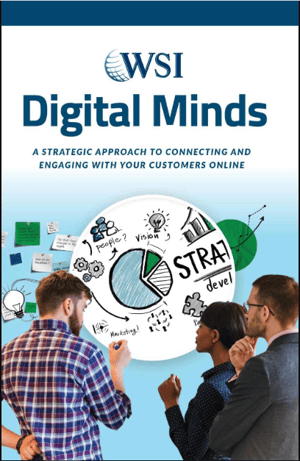 That said, I am very happy to announce the release of our latest in WSI's best-selling Digital Minds book series! Our third publication in this series is entitled "Digital Minds: A Strategic Approach to Connecting and Engaging with Your Customers Online."
Building upon our previous two publications (released in 2013 and 2015), our new book is co-authored by some of the leading experts within our own team. We walk through proven marketing tactics on digital advertising, chatbot technologies, video marketing, SEO, social, lead nurturing and more. Readers will explore the 12 key components of a powerful digital strategy that makes sense for your business.
---
Digital Minds Sneak Peek
Chapter 1: "Analyzing Your Market, Your Products or Services, And Your Competition" – By Francois Muscat
The first chapter is all about analyzing the big picture. Business owners and marketers are challenged with assessing competitors' as well as their own strengths and weaknesses through process driven audits for content, websites, SEO, social and more.

Chapter 2: "Defining Your Ideal Customers" – By Cormac Farrelly
Learn how defining buyer personas improves prospecting and ultimately helps drive revenue. Readers will also explore key components of 'empathy maps' as an essential persona-defining tool.

Chapter 3: "Planning Your Digital Strategy" – By Carlos Guzman
Your digital strategy is all about piecing together learnings from your business audits and persona defining sessions. In this chapter, get a comprehensive digital strategy checklist covering everything from your elevator pitch to your core message, marketing channels and database management.

Chapter 4: "Generating Demand for Your Products and Services" – By Gabor Markus
Discover customer targeting strategies used by leaders in the marketing industry. Whether targeting customers by their intent, location, interests or search history, we explore actionable tactics for several key channels.

Chapter 5: "Implementing Inbound Marketing Best Practices" – By Marco Marmo
This chapter focuses on mastering the stages of inbound marketing: attracting, engaging and delighting customers. Access a content planning model to help you hit all stages of the buyer's journey.

Chapter 6: "Converting Your Website Visitors Into Leads" – By Chuck Bankoff
Deep dive into your website visitors' user experience. No stones are left un-turned in this chapter and readers will examine everything from your site architecture, design elements, videos, lead generating components, forms, chatbots and more.

Chapter 7: "Shortening the Sales Cycle with Conversational Marketing" – By Eric Cook
Discover how artificial intelligence and neuro-linguistic programming are undoubtedly impacting your brand's marketing strategies as well as your customers' communication preferences. Find out how adapting to consumer trends boosts your conversions and lowers operational costs.

Chapter 8: "Keeping the Conversation Going with Video Marketing" – By Ryan Kelly
With more than one billion hours of YouTube watched daily, you'll need this chapter to discover which kinds of video content make sense for your brand mission and your ROI potential. To help video marketing rookies get started, we even provide a simple 5-step recipe for your first on-camera production.

Chapter 9: "Rethinking the Role of SEO and Social Media in Your Search Strategy" – By Mark Jamieson
With Google's constant algorithm updates, this chapter is essential to everyone. Explore the newest strategies for capitalizing on voice search, website FAQs, online directories, influencer marketing strategies and more.

Chapter 10: "Managing and Nurturing Your Database" – By Alison Lindemann
Marketing automation software and CRM systems are absolutely essential to daily business efficiencies, lead nurturing strategies and data security. If your business hasn't made the leap yet, consider this chapter your playbook on selecting the right software for your unique business objectives.

Chapter 11: "Establishing a Customer Loyalty Strategy" – By Jason McCoy
Learn how to leverage the customer experience methodology effectively. This chapter sets you on a path to building positive customer perception, refining your offerings, and cultivating a popular brand that your customers advocate for.

Chapter 12: "Tracking Insights and Matter" – By Andreas Mueller-Schubert
Connecting business goals to definitive data points is a common challenge for many teams. In this chapter, readers examine how to identify, track and analyze meaningful data as well as the best tools used by industry leaders.
---
We realize that keeping up with the latest in digital marketing is one the most common challenges business owners and marketers face. Helping you adapt to evolving technologies and consumer trends is at the center of each of our Digital Minds books.
To add this edition to your business arsenal, get in touch.
WSI was founded in 1995 and is an innovative digital marketing agency with offices in over 80 countries. We've spent over 20 years helping more than 100,000 companies and large global brands unlock the full potential of their business by leveraging the Internet and its many unrecognized opportunities. We'd be happy to help do the same for you and consult on your digital marketing strategy. Simply give me a call or email me at rknutsen@wsiebizsolutions.net to learn more.
About the Author
Rick spent 20 years in the insurance industry in finance, primarily developing reporting platforms for B & C stakeholders.   His ability to speak to consumers of data (managers and analysts) and translate their needs to programmers led him to start his own digital marketing agency in 2004 to develop data driven solutions for business owners. 
The Best Digital Marketing Insight and Advice
The WSI Digital Marketing Blog is your go-to-place to get tips, tricks and best practices on all things digital marketing related. Check out our latest posts.
We are committed to protecting your privacy. For more info, please review our Privacy and Cookie Policies. You may unsubscribe at any time.
Don't stop the learning now!
Here are some other blog posts you may be interested in.