By now it's no secret that marketing and technology go together like gin and tonic. (Or mustard and ketchup. PB and J…you get the idea). They're a duo. Naturally paired together to enhance the overall experience. Nowadays, it's damn near impossible for marketers to perform without the right tools and technologies in their arsenal. The marketing world is non-stop and there are literally thousands of tools and innovations that were designed to help you automate and simplify your marketing efforts.
One of the more jarring tasks of many businesses I've worked with is selecting from the vast pool of tools to use. This is where having a marketing technology stack becomes fundamental to your business' marketing strategies.
But what is a marketing technology (aka 'martech') stack and why does your online business need one? Let's discuss and break it down:
What is a Marketing Tech Stack? 
This is marketing jargon that you will definitely hear more of if you haven't already. Essentially, a marketing technology stack is exactly what it sounds like: it's a group of tech-based tools that marketers and businesses use to improve their marketing activities. But it's more dynamic than merely using several tools individually for their own siloed purposes. Instead, marketing technologies are 'stacked' to create an integrated series of tools that allows you to build seamless customer relationships across several different channels.
Not only will the right martech stack iron out your processes, but it should focus on the impact of your marketing activities and drive more efficient marketing spend.
Why should I invest in a Marketing Technology Stack? 
Like I said earlier, the martech space is made up of thousands of online tools and technologies. The sheer amount of vendors offering the latest and greatest in marketing innovations is overwhelming. Just take a look at ChiefMartech's latest edition of the marketing landscape for 2019, with over 7,000 solutions to choose from. (For some perspective, ChiefMartech reported only 150 solutions just 8 years ago!)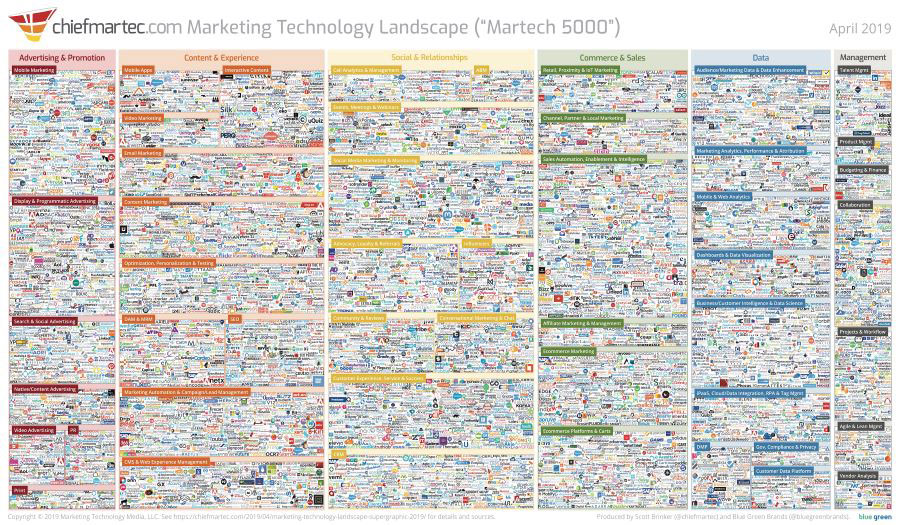 Put simply, the martech space is colossal. And marketers are pressured to keep up with the growth. According to Korn Ferry, "27% of CMOs were concerned with staying ahead and taking advantage of digital technology trends."With thousands of solutions to choose from, it's vital for marketers and business owners to understand how the right tech stack will impact their businesses and which technologies will be fundamental to reaching their goals.
What Elements Make A Great Marketing Tech Stack? 
First of all – as with other areas of your marketing strategy – one size does not fit all when it comes to building the right martech stack for your company. Your chosen technologies will be impacted by factors like your budget and the type of business you have. One key factor to consider is your target market; for instance, B2C companies will likely require slightly different technologies than a B2B company since they each typically use different channels and techniques to acquire and engage with their customers.
So let's take a look at the technologies I consider foundational to a tech stack, regardless of your target customer.
Customer Relationship Management (CRM): this is often a focus for you B2B-ers. CRMs track all customer relationships and marketing attribution for you and your sales force. Ultimately, CRMs are essential to gaining in-depth insights of how your marketing efforts impact your sales pipeline. [Tools to explore: Salesforce; HubspotCRM; SugarCRM].
Content Management System (CMS): by now, for most of you, this is a basic element of your tech stack that you're familiar with. A CMS is the technology that powers your website, blog, landing pages etc. These web properties are often where you want to engage your customers. [Tools to explore: WordPress; Hubspot; Joomla].
Advertising and SEO: this element is pretty vast, but search engine optimization and advertising is key to your customer acquisition strategies regardless of the type of business you run. Many marketers use a combination of software for keyword research, display ads, ad tracking, and attribution.  [Tools to explore: SEMrush, Google Ads; HasOffers].
Email: this is still a very cost effective way to support sales, build brand awareness and gain trust with your customer base. Email marketing capabilities might even be readily available in other platforms in your tech stack; like in your marketing automation or inbound marketing platform, for instance. [Tools to explore: MailChimp; Constant Contact; SendGrid].
Social Media: technologies for this space help monitor your social conversations, schedule posts or curate content. Specific networks like Facebook and LinkedIn also offer paid advertising opportunities that may be a valuable addition to your own tech stack. [Tools to explore: BuzzSumo; Hootsuite; SproutSocial].
Collaboration: these are some of my favorite tools to add to a tech stack. Collaboration software focus on working efficiently and transparently with your team. There are a number of project management tools to choose from, or even tools that focus more on the customer journey. [Tools to explore: Trello; Asana; Slack]. 
Analysis and Reporting: regardless of the technologies you choose to integrate with in your tech stack, you must always be able to access your data to measure your marketing efforts. For the most part, businesses will at least have basic website analytics tracking in place, which is a great way to start. But depending on your situation, you could explore building a full data warehouse to pull together data from various systems to make your reporting more accessible and rounded. [Tools to explore: Google Analytics; KissMetrics; HotJar].
Building the right marketing tech stack for any company is no picnic. It can be quite a gargantuan task. But it's all about integrating the right technologies together so they're working cooperatively instead of independently. Not only will you get a full, comprehensive view of your customer journey and marketing efforts, but you'll uncover how to optimize your hard earned marketing dollars.