In an industry that is fiercely competitive, having a powerful web presence makes all the difference between standing out and being left behind. For Chicago Realtor, Terri Buseman, the new website designed by WSI is a true winner. Quite literally, in fact. The site won the Outstanding Website Award at the 2019 WMA WebAwards. Mikesell Digital Consulting in Chicago and WSI NextGenMarketing in Napa Valley took home the award for this category in the prestigious global website competition. Elaine Mikesell and Andreas Mueller-Schubert and their teams are proud of their achievement and delighted at the recognition.
The WMA WebAwards is a standards-defining competition that is held annually by the Web Marketing Association and sets industry benchmarks for excellence in website design. WSI has been participating in this competition since 2007 and has consistently won awards each year, achieving 100 awards in total so far.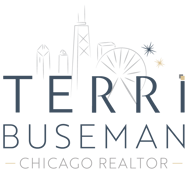 The Client's Objectives – Stand Out, Attract, Communicate, Convert
When the client, Terri Buseman, Chicago approached WSI to redesign her Chicago real estate website, it was the start of a valuable partnership. Terri Buseman is a premier real estate broker focused on the high-end real estate market in Downtown Chicago. The client wanted to create an informative, resource-rich, and beautiful website to attract and support the high-end diverse urban real estate clients. Terri Buseman also wanted to increase their positioning in organic search and start attracting more visitors to her website. In addition, the client needed a comprehensive communications and digital marketing strategy to distinguish her brand and market her listings.
The WSI Offering
The full suite of digital marketing services in the WSI solution included:
Identifying the brand's target persona
Structuring the website information architecture
Creating the logo and all brand design elements
Creating the brand profiles in various social networks
Writing optimized content
Designing and posting on social media as well as managing social media engagement
Conducting paid search campaigns (real estate specific and social media ads)
Building an excellent, resourceful website
Implementing an email marketing program
Designing and producing print marketing collaterals for listings (post cards, listing brochures, etc.)
WSI Loves A Good Challenge – and this Was One!
The biggest challenge with this project was to implement a cohesive marketing strategy and schedule that keeps Terri Buseman and her listings top of mind in a highly competitive real estate environment.
The WSI team surpassed those challenges very successfully. When the new website was launched, the results the client received were extremely rewarding.
Within the first three months of the new website going live, the traffic tripled!
Brand awareness and recognition for the client increased.
The client receives daily feedback from clients and other realtors about the quality of her website.
Terri receives appreciation for the professionalism of her communications and social media posts, and engagement levels are proof that it's working.
A very satisfied Terri Buseman had no hesitation in commending WSI for its excellent work. "Elaine and Andreas presented the collective strength and collaborative effort of WSI to work as our true partners in this challenge of building a new website. They asked all the right questions, gave me all the right answers, sifted the grain from the chaff in terms of design and development ideas, and overall, did an excellent job of creating our new website. Not only is it aesthetically pleasing, but it helps us do business better, faster and more efficiently. It also gives our clients the resources they need to conduct the life-changing transactions involved in buying o selling a house. Being chosen as one of WSI's entry for the WMA WebAwards was an honor but winning in the Outstanding Website category is the cherry on top! Congratulations to WSI, Elaine and Andreas and their teams. If you want to elevate your company's online presence and be more competitive in the digital world, talk to WSI."
Elaine Mikesell and Andreas Mueller-Schubert are very pleased to have won this award, but more than that, they are excited to have a satisfied client who recommends their services. Elaine Mikesell, who is the project leader, is thrilled with the bragging rights that the team has earned with this award. She says, "Our Terri Buseman project team worked closely, doing our best to apply all the winning techniques, best practices and tools available to us through the WSI network. The suppliers and partners who worked with us also demonstrated their skill, capability and experience that served to deliver the best result for the client. We're humbled and grateful for the award; it motivates us to continue helping our clients grow their brands and create award winning interactive assets for them."
Check out all our 2019 WMA award winning projects from WSI here. To speak to a WSI expert in your region, contact us today.