Important Lessons for Marketing Your Business in a Post-Coronavirus World
March 19, 2020
Summary: While nobody was necessarily prepared for a crisis of this magnitude, you are – believe it or not – already equipped to continue marketing your brand in a post-Coronavirus world.
Like many of you reading this, I'm writing this blog post in self-isolation. Not because of any viral symptoms – thankfully – but because this is the new reality for both our personal and professional lives. At least for the time being. And on behalf of our WSI family, I hope you are staying healthy and continue to take the recommended precautions.
From sporting events to conferences and even air travel, cancellations were announced in droves over the course of the last several weeks. COVID-19 has sparked turmoil around the globe and as we all adjust, businesses everywhere – ours included – are navigating unfamiliar territory.
Sure, working remotely (for those businesses that can) was one of the first precautionary actions that businesses enforced. We, too, have made the decision to support social distancing. But the fear for business owners everywhere stems deeper than ensuring employees are washing their hands and limiting their social interactions. Small businesses especially, are struggling with how to maintain brand visibility, revenue, traffic (both physical and digital) and relevance during a time when their audience is preoccupied with stockpiling hand sanitizer and toilet paper.
In spite of the overwhelming fears and uncertainties, now is not the time to market your business with your head in the sand. And while, nobody was necessarily prepared for a crisis of this magnitude, you are – believe it or not – already equipped to continue marketing your brand in a post-Coronavirus world.
Let's discuss some best practices for your customer communications, your marketing mix, and your growth. We'll even take a look at some great – and other not-so-great – examples of how some businesses are choosing to deal with the pandemic.
1. Refrain From Denial Marketing
Like I said earlier: it is not the time to market your business with your head in the sand. While some of us might be craving a little normalcy, pretending like nothing is happening is simply tone-deaf and possibly irresponsible. Pause and review your scheduled social media updates; analyze your pre-written content and previously scheduled campaigns. Performing a 360 on your content strategy and reflection is important in this digital environment. Posts that may have seemed fine a few weeks ago, may seem insensitive now.
2. Avoid Marketing Tactics That Exploit Customers' Emotional State of Mind
Perhaps slightly more controversial than denial marketing, is fear-based marketing. Cheap marketing ploys to attract customers to your business is risky in this environment. An unfortunate example of late are the recent reports of price gouging by both offline and online retailers. Last week this ad (source) by a third-party dealer on Amazon was found to promote a couple of 236-ml bottles of hand sanitizer selling for $99.99.
Needless to say, profiting by artificially raising prices on basic needs during a global pandemic is simply poor business ethics. And thankfully, both government bodies and retailers like Amazon, have been suspending such accounts and, in some cases, issuing steep fines. People will remember how you handle your marketing during this time. Negative brand association can cause irreparable damage to your reputation and business operations. Tread lightly.
3. Review and Revise Your Advertising Spend
In any crisis situation – particularly one with global quarantine recommendations – it's especially important to reduce unnecessary expenses. The instinct is to keep your budget trim without causing any long-term damage to your customer base. That said, it's imperative that businesses make strategic marketing decisions and maintain a Coronavirus marketing plan. Review your ad campaign spend and adapt accordingly.
For example, a restaurant owner who is worried about being required to temporarily close their dining areas might want to increase targeted ad spend on social platforms to promote their delivery service (or association with third-party apps). Your business needs, the desired outcome, and a proper gauge on your audience's motivations are vital to managing your overhead during a pandemic.
A wonderful example of ad spend used wisely is this St. Patrick's Day ad from Guinness. Naturally, St. Paddy's day revelry has been muted this year due to the pandemic. Guinness, however, sensibly chose to use this time as an opportunity to promote an optimistic and unifying message: "Whether you are planning to safely celebrate at the pub, or hosting at home, if you can call the people around you friends or family, you've already won. When you raise a pint of Guinness, also remember to raise each other up." Watch the commercial in full below.
4. Maintain Your SEO Strategies and Competitive Research
Even when there is no crisis situation to contend with, this is generally always good advice for businesses. Maintain the basics of search engine optimization and aim to boost your site's organic reach: update website page titles, headers and meta tags. Refresh outdated content with new information and relevant backlinks.
It's also important to also use this time to keep a close eye on your competitors. Aim to uncover services they might be lacking, which could be important to customers who are self-isolating. This information could be used for your competitive ad retargeting efforts.
5. Ramp Up Customer Service Through Social Media and Alternative Technologies
Naturally, the widespread anxiety is causing disruptions to brand communications and messaging. It was recently reported that WestJet was experiencing 10 hour call center wait times amid the panic. This is an important lesson in anticipating changes in your customers' behaviors and recognizing how they potentially impact your service level agreements. Leverage a mix of social media channels to supplement your customer service. JetBlue, for instance, has used Twitter to communicate relevant policy changes in line with their customers' evolving needs.
For the next 2 weeks, there's no change or cancellation fees* with any of our fares. Applies to bookings made 2/27-3/11 for travel through 6/1/20. Details > https://www.jetblue.com/travel-alerts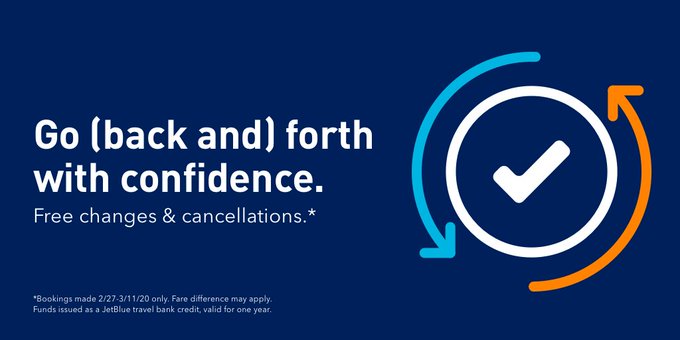 2026:04 PM – Feb 26, 2020Twitter Ads info and privacy147 people are talking about this
Of course, this expands to other platforms as well. Depending on your business, you may require the use of video calls for conferences and sales pitches. Show your customer base that you're working hard to provide the services they rely on, while proactively protecting their health as well as your own.

6. Consider New Platforms to Expand Your Reach
With much of the population self-isolating at home, it's expected that services that make a quarantine more bearable will be in much higher demand. Streaming services like Netflix, cable providers and gaming companies might see a boost in subscribers. Podcast producers, YouTube and Instagram content creators will likely have more viewers at home, ready and eager to be entertained by new content.
Use this time to brainstorm how your brand can create content for platforms you haven't leveraged before. Uploading Insta-stories, sharing photos, creating informative articles or videos will help expand your organic reach and stay top of mind among an audience that is actively seeking new media.
7. Whatever You Choose to Do, Do NOT Cut Back on Digital
Unfortunately, businesses who choose to cut back on digital marketing in fear of the economic impact of COVID-19, are likely to suffer the most. Yes – meeting the needs of those customers stuck in quarantine won't be easy. But it is possible to get strategic with your marketing budget and minimize the negative effects on your business. The right mix of SEO strategies, new media engagement initiatives and targeted ad spend will help your business create invaluable customer relationships that will outlast any pandemic.
How WSI is Working Through COVID-19
Similar to many of our clients' businesses, our own team is embracing social distancing and working remotely in order to assist in flattening the curve. WSI is continuing to conduct network-wide virtual meetings over the course of the next few days in an effort to ensure minimal service disruptions to our clients.
Ultimately our goal to provide best in class digital solutions to your unique business needs remains the same. And we're committed to helping your business adapt in a post-coronavirus world as efficiently and as safely as possible.
If you have any questions about the appropriate marketing strategies to help your business withstand the pandemic, don't hesitate to reach out to your local WSI Consultant.
Until then, take care of yourselves and of each other.
WSI was founded in 1995 and is an innovative digital marketing agency with offices in over 80 countries. We've spent over 20 years helping more than 100,000 companies and large global brands unlock the full potential of their business by leveraging the Internet and its many unrecognized opportunities. We'd be happy to help do the same for you and consult on your digital marketing strategy. Simply give me a call or email me at rknutsen@wsiebizsolutions.net to learn more.
About the Author
Rick spent 20 years in the insurance industry in finance, primarily developing reporting platforms for B & C stakeholders.   His ability to speak to consumers of data (managers and analysts) and translate their needs to programmers led him to start his own digital marketing agency in 2004 to develop data driven solutions for business owners. 
The Best Digital Marketing Insight and Advice
The WSI Digital Marketing Blog is your go-to-place to get tips, tricks and best practices on all things digital marketing related. Check out our latest posts.
We are committed to protecting your privacy. For more info, please review our Privacy and Cookie Policies. You may unsubscribe at any time.
Don't stop the learning now!
Here are some other blog posts you may be interested in.