We don't mean to brag, but we believe awards should be celebrated – and respected. We are incredibly proud of all the awards the WSI network has won, and we believe our collective trophy case is tangible proof that we'd make a fantastic marketing partner for any business.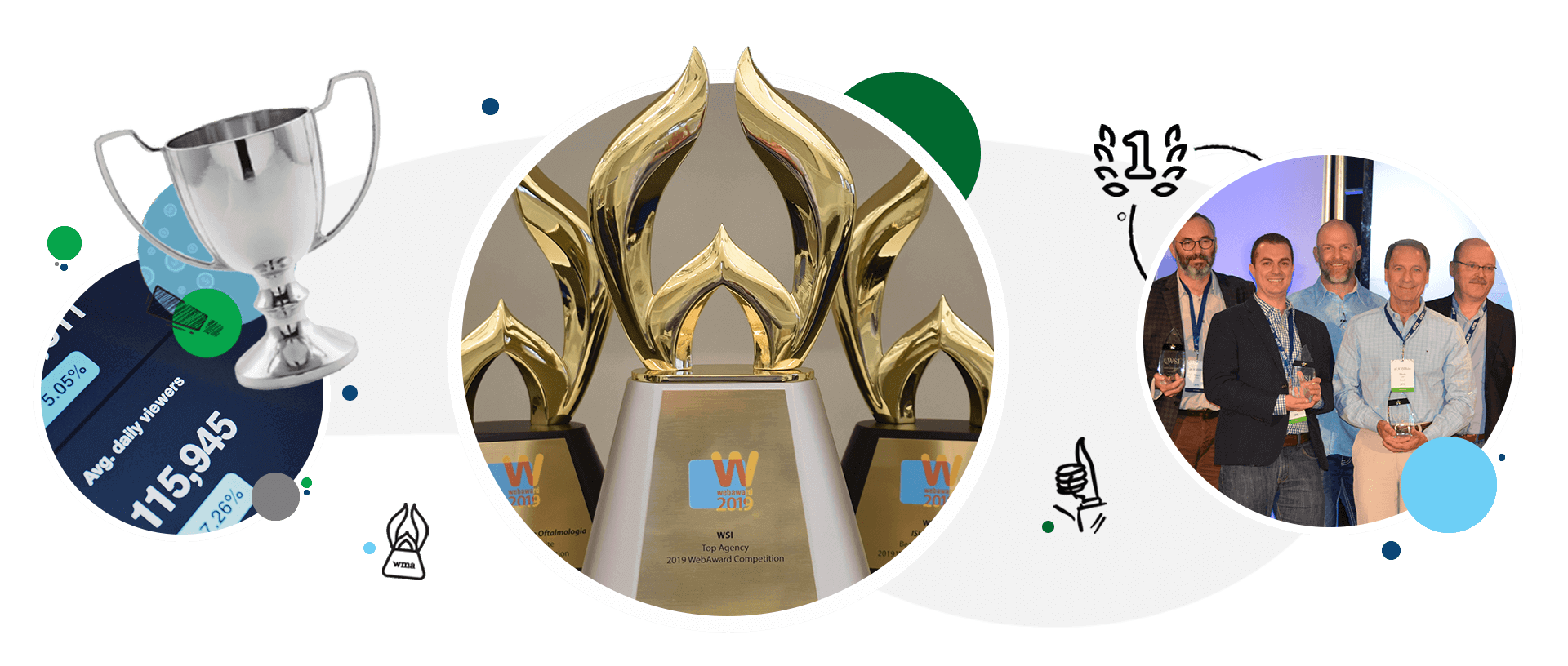 We are who we say we are
We know we are the largest and most successful digital marketing network in the world. For some, that's enough. But for our other potential partners out there or those who may doubt us, we believe the awards we've won prove we are who we say we are.
Top Agency and 100+ WMA Awards since 2007
The WSI network has won more than 100 WMA Awards and has been named Top Agency for the Web Marketing Association! What can we say? We take pride in our knowledge and expertise and love providing solutions that get great results for our clients. We also like winning. It's a nice bonus.
Award-winning dedication to our craft
We believe in better marketing, and we strive to deliver award-winning service to every business we help. It's why we've won digital marketing awards every year for the last 11 years, and why we plan on winning more next year.
WSI was founded in 1995 and is an innovative digital marketing agency with offices in over 80 countries. We've spent over 20 years helping more than 100,000 companies and large global brands unlock the full potential of their business by leveraging the Internet and its many unrecognized opportunities. We'd be happy to help do the same for you and consult on your digital marketing strategy. Simply give me a call or email me at rknutsen@wsiebizsolutions.net to learn more.
About the Author
Rick spent 20 years in the insurance industry in finance, primarily developing reporting platforms for B & C stakeholders.   His ability to speak to consumers of data (managers and analysts) and translate their needs to programmers led him to start his own digital marketing agency in 2004 to develop data driven solutions for business owners. 
The Best Digital Marketing Insight and Advice
The WSI Digital Marketing Blog is your go-to-place to get tips, tricks and best practices on all things digital marketing related. Check out our latest posts.
We are committed to protecting your privacy. For more info, please review our Privacy and Cookie Policies. You may unsubscribe at any time.
Don't stop the learning now!
Here are some other blog posts you may be interested in.