Summary: With the boom in digital marketing demand, LinkedIn is reporting a similar increased demand for digital marketing expertise. In this post, we dive into LinkedIn's recent report to review the hottest digital marketing skills.
LinkedIn Marketing highlights in a recent report the extent to which the demand for marketers in digital roles has grown. Their internal data analysis demonstrates that digital marketing and social media jobs are in great demand. Fifty percent of the top ten jobs posted on LinkedIn are in the digital and media environment.
Businesses globally are now very aware of the importance of digital marketing. It is demonstrated by a new program in Executive Education at Harvard Business School called 'Marketing in the Digital Era', which is presented in a virtual format. The business world knows more customers are accessible online than ever before. And to connect with these customers, they need employees with digital marketing skills.
The demand for digital marketing skills is not only highlighted in the jobs posted on LinkedIn. Fifty percent of the top ten LinkedIn Learning courses taken over the last twelve months are in the digital marketing space.
The Pandemic has Accelerated the Shift Towards Everything Virtual
The value of digital marketing was not fully understood until the COVID-19 pandemic rapidly shifted the world towards everything virtual. Who can forget the explosion of the video-conferencing platform Zoom, which had their user numbers go from 10 million to 300 million in less than a year?
Grandparents started using digital technology to talk to their grandchildren. Kids attended school via Google Classroom or other convenient digital platforms. Employees went online to work from home and communicated with one another via Slack. And consumers that could no longer shop at physical stores turned to ecommerce to purchase what they wanted.
The pandemic forced companies to accelerate the development of their digital platforms and ecommerce marketing because if you wanted to do business, it had to be online.
This virtual shift created a new demand for people with digital marketing expertise and an understanding of the social media world. And savvy individuals used the opportunity to upskill themselves on various aspects of digital marketing, ready to ride the wave of demand. 
Search Manager, Social Media Coordinator, and Media Coordinator
LinkedIn Marketing looked at marketing jobs in the NAMER region represented by Canada, the United States, and Mexico. As defined by year-on-year growth, the fastest-growing occupations are as follows:
Media Coordinator
Search Manager
Social Media Coordinator
These same jobs are also currently in high demand. And according to the LinkedIn Marketing report, these are the roles that have shown the highest growth in the last six months.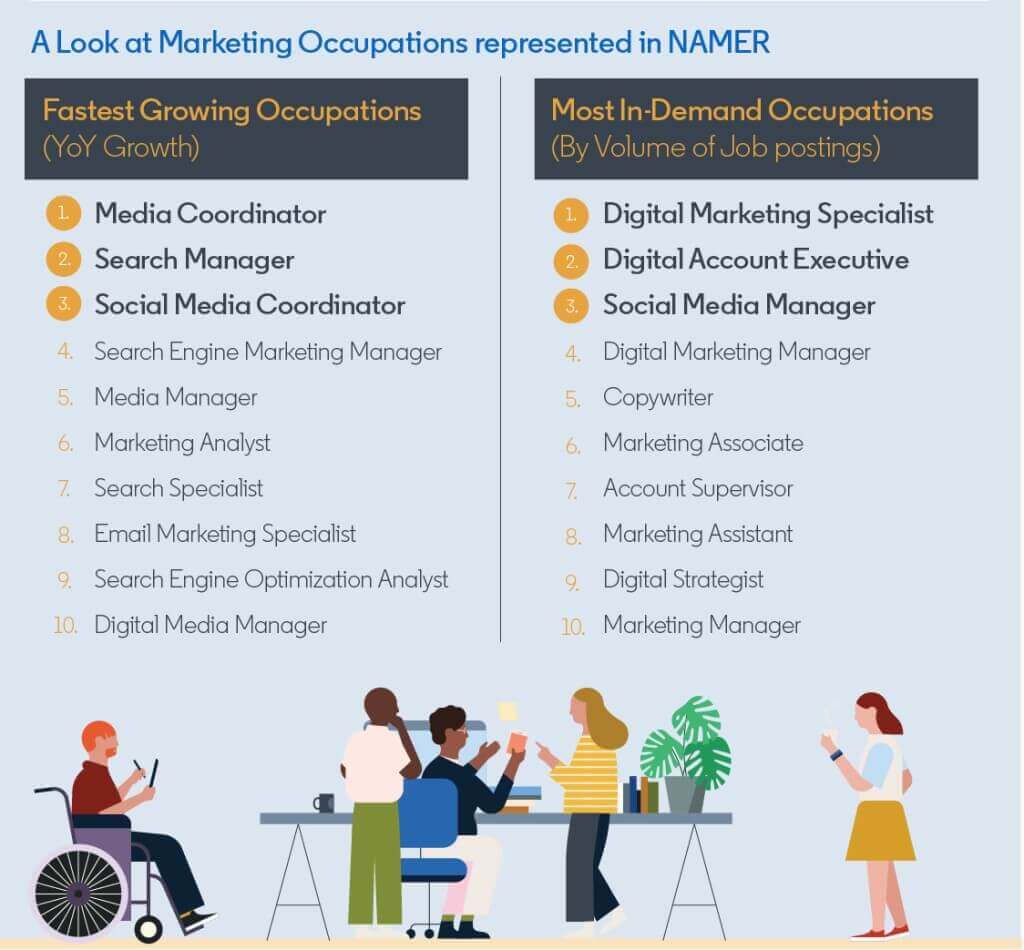 The report also highlights the demand for specific skills that correlate with these roles with the highest employment growth. These skills are highlighted explicitly as looked-for in the previous half-year period. Of the top five skills in demand the last six months, the three pertinent to the fastest-growing occupations are:
Social media marketing
Paid search strategy
Social media
Digital Marketing Specialist, Digital Account Executive, and Social Media Manager
In a deeper look at the marketing jobs offered in Canada, the United States, and Mexico, the LinkedIn Marketing report highlighted the most in-demand jobs. But this time, it is by volume of job postings instead of year-to-year growth.
By volume, the top three most in-demand jobs are:
Digital Marketing Specialist
Digital Account Executive
Social Media Manager
The LinkedIn Marketing report states that the position of "Digital Marketing Specialist" is very broad but they highlight that there seems to be a disparity between the job skills of Digital Marketing Specialist applicants and the job skills the market requires from that position.
Relative Supply-to-Demand Index
As mentioned before, the report found a difference in the skills demanded by employers and those offered by potential employees. In their relative supply to demand index, the top three discrepancies are in:
Digital Marketing
Advertising
Social Media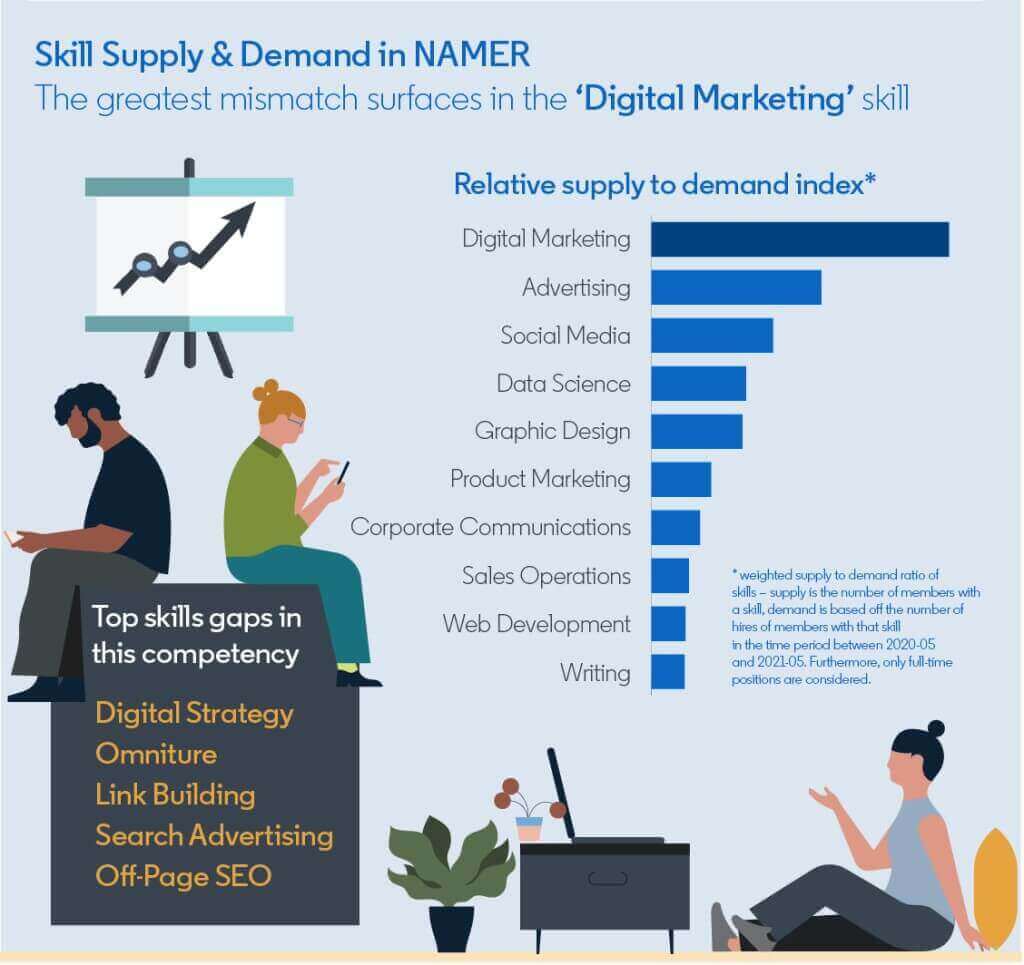 The LinkedIn Marketing team states they reached this conclusion by looking at full-time positions. Supply was the number of members with a specific skill, and demand was measured in the number of hires with that skill from March 2020 to March 2021.
The skills required, but not equally available in the digital marketing jobs environment, are as follows:
Digital strategy
Omniture
Link building
Search advertising
Off-page SEO
Omniture SiteCatalyst, now known as Adobe Analytics, focuses on multi-channel analytics. It is part of the Adobe Experience Cloud. Its plug-ins allow marketers to analyze their campaign results on video and mobile apps, in addition to the regular internet marketing channels.
Top 10 LinkedIn Learning Courses
Upskilling in digital marketing subjects was also identified in the top ten LinkedIn Learning courses within a recent twelve-month period. The top five learning courses were as follows:
Interestingly, the course "The Six Morning Habits of High Performers" had three times more learners than the next course. It's based on a podcast by Hal Elrod called 'How to be Awesome at Your Job.' Some of the habits highlighted include practicing silence for greater clarity, making truthful affirmations, and boosting your energy with morning exercise.
WSI is a digital marketing agency that takes the time to understand your organization and customers. Do you need to grow your online reputation on social media outlets like Instagram or Facebook? Want to know more about LinkedIn marketing? Contact WSI today.
About the Author
Rick spent 20 years in the insurance industry in finance, primarily developing reporting platforms for B & C stakeholders.   His ability to speak to consumers of data (managers and analysts) and translate their needs to programmers led him to start his own digital marketing agency in 2004 to develop data driven solutions for business owners. 
The Best Digital Marketing Insight and Advice
The WSI Digital Marketing Blog is your go-to-place to get tips, tricks and best practices on all things digital marketing related. Check out our latest posts.
We are committed to protecting your privacy. For more info, please review our Privacy and Cookie Policies. You may unsubscribe at any time.
Don't stop the learning now!
Here are some other blog posts you may be interested in.