How to Launch Profitable Chatbots for Clients: 5 Chat Marketing Tools and Tactics for Agencies
November 18, 2019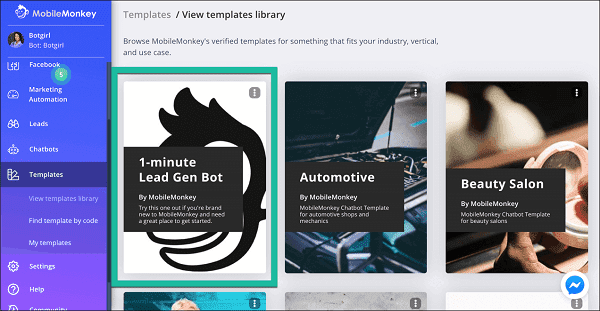 Chatbots for business are a relatively new form of marketing tech. They're also completely underutilized.
Translation: Competitive advantage for your agency to differentiate, expand and charge more.
(Wondering "What is a marketing bot?" ← I invite you to start there.)
Naturally, brands and their agencies need to keep up with the latest tech driving business value; the global chatbot market is expected to continue growing exponentially over the next four years. (Additional revenue in the billions of dollars!)
Chatbots are also incredibly profitable as an agency marketing service. An agency that provides chatbot services differentiates itself from an agency that does not. This attracts new leads and helps sign up new customers.
You'll find that with chatbots capturing leads from web traffic and Facebook ads, you're providing better performance for clients than ever before. The automated nature of chatbots makes interactions with customers easy, fast, and it gets results.
Getting positive results and growing your agency will mean that you can expand retainers with existing clients, offering even more profit and pushing your total revenue even higher.
Now that you've seen why you need to be using chatbots in your marketing, let's go over key tools and tactics to bring chatbot services to life at your agency.
Tools and Tactics to Produce Chatbots at Your Agency
Step 1: Sign up for MobileMonkey. It's the chatbot building platform that we'll use to create chatbots marketing campaigns for your agency and clients.
1. Chatbot Templates
Templates make it easy to create a bot to start with. You customize bot templates to your client and can even clone chatbots you make to use your tailored bots for new clients.
When you're ready to load up one of MobileMonkey's chatbot templates, consider the one-minute lead generation bot template. This is a simple bot that's sole purpose is to collect leads.
Put this bot on your clients website to:
Greet visitors
Collect emails/phone numbers
Find out what they're looking for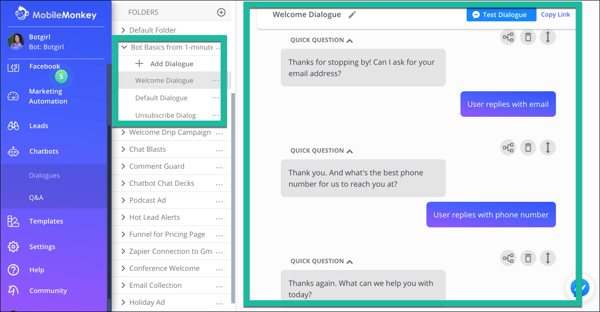 Then you send that info to yourself in an email, or automatically send that data to your client's sales team or into their CRM — whatever workflow makes sense for the business.
This simple bot converts website and Facebook traffic into a growing lead list. You'll have a bottom-line driving metric to report to clients alongside website traffic or ad CPA: new leads captured!
You can see the chatbot template library from "Templates" in MobileMonkey's left-nav and pick the 1-min Lead Gen Bot.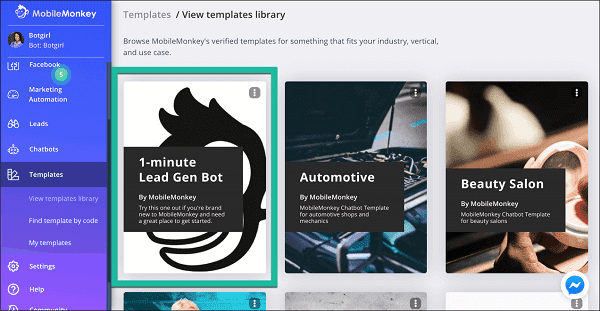 For in-depth info on chatbots for lead generation, there's your guide.
2. Website Chatbot Widget
With the simple lead gen bot launched and customized, you want it to be visible to interact with on the client's website.
People love chat options for their questions and customer service. In fact, when given a choice between phone, email, and chat for this purpose, more customers choose chat than phone or email.
That's because chat is easy and fast. Customers get quick answers to their questions or receive the service they need faster than dealing with phone operator menus or waiting for email responses.
You can add the MobileMonkey chatbot to a website a couple ways:
A chatbot for website installed with Google Tag Manager or a similar service
Adding a chatbot widget to your website opens up automation potential that will greatly benefit your marketing agency.
Chatbots provide 24/7 instant response to questions and engagement. That means no wait times and happier customers!
Chatbots are also far cheaper than compensating a live staff. That means more profit for your agency.
And MOST IMPORTANTLY: Everyone who messages the business from the website chat widget instantly becomes a captured lead that you can send follow up messaging to.
Instead of anonymous website traffic, you're growing a list of contacts that last.
3. Facebook Post Autoresponder Comment Guards
This next chatbot tactic grows your contact list by turning your engaged Facebook fans into Messenger contacts for free. It's also a really cool way to make a Facebook post interactive.
Get ready to add Facebook comment guards to your marketing vocabulary.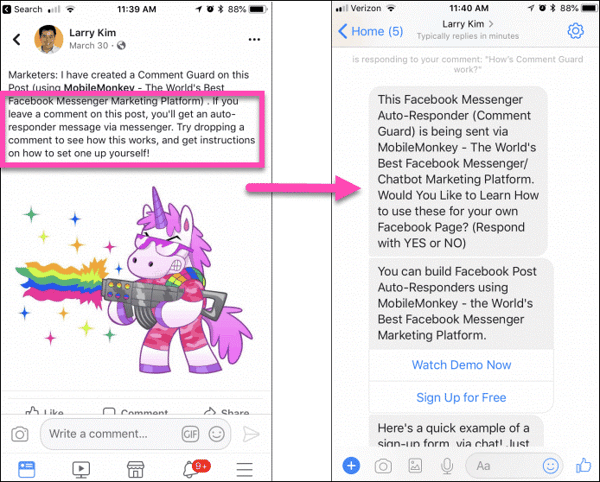 A comment guard is essentially a Facebook post autoresponder – when you implement the comment guard on a post, those who comment on the post get an automatic message from a Messenger chatbot.
Comment guards are so simple and quick to create that you can create a new one each week and build your contact list faster than you ever thought possible.
From Facebook tools in the left-nav go to FB Comment Guards: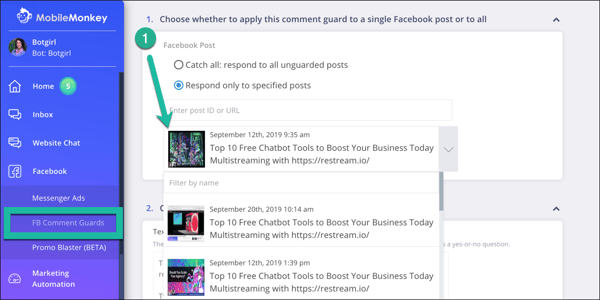 Choose the post you want to add the comment guard to (or choose to guard all your unguarded posts at once).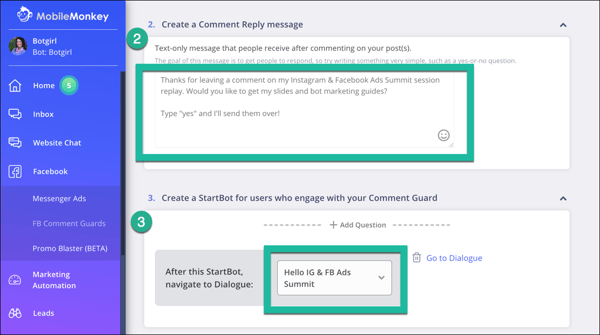 Write the text you want to act as the chatbot autoresponder when someone comments on the Facebook post.
Then pick the follow-up chatbot dialogue that will send after the user responds.
You'll also have the option to pick a frequency cap, how often someone can receive this message if they comment on the post more than once (for example, only send this autoresponder once an hour, once a day, and so on).
Facebook post autoresponders are useful because those commenting on your posts are already engaged with a brand. Comment guards just turn Page fans into captured leads you can send follow-up messaging to! For free!
4. Facebook Click-to-Messenger Ads
Want to blow your clients' minds with an ad that has lower CPAs and higher conversion rate?
Use Facebook click-to-Messenger ads with a MobileMonkey chatbot as the click-through.
While you're probably used to running ads that send a user to your client's website landing page where the average website conversion rate is 4%.
Instead, a click-to-Messenger ad directs the user to the chatbot where 100% of users who reply to the bot are captured as a lead.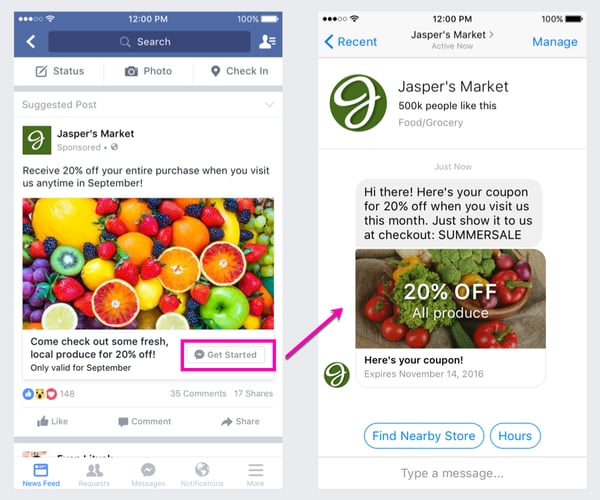 The ad is created in Facebook Ads Manager as usual, but with the Messages objective. This way, when users click the button to "Get Started" or "Send Message" they are greeted by an automated message in Facebook Messenger.
To set this up, create the ad in Facebook Ads Manager, selecting the audience, budget, placements. Then go into MobileMonkey and create your chatbot.
Head to Facebook Ads in MobileMonkey to finish the click-to-Messenger ad setup: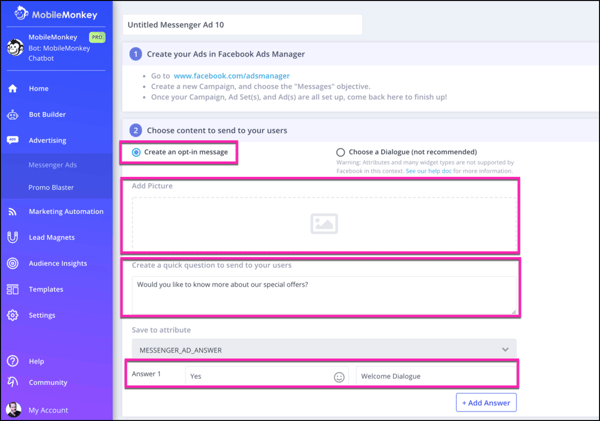 Here's where we set up the immediate bot reply a user gets after clicking the CTA button on the ad:
Add an image (optional)
Write a quick question to ask the user
Provide a quick reply button that the user can easily tap to respond to the bot, then connect that response the bot dialogue you created above.
Experience a click-to-Messenger ad in action for yourself here. As soon as you respond to the bot, your lead info is captured!
Your clients will love the lead generation upgrade.
5. Hot Lead Alert Email Notifications
So you've got a Facebook Messenger bot funnel set up, generating new contacts to qualify at the top of funnel.
You built your chatbot, added a widget to your website, created a comment guard and even curated a click-to-Messenger ad, all to promote engagement and get more leads.
Wouldn't it be nice to know when those potential leads are surfacing?
You can, with a Facebook Messenger Email Notification.
With this email notification, you'll get an email alert whenever there's a hot lead talking to your chatbot. You can decide if you want the notification when the lead fills out a form, asks to talk to a human, or when the lead is on a specific page of your website that indicates that they are a high-value lead (or, more simply, ready to convert).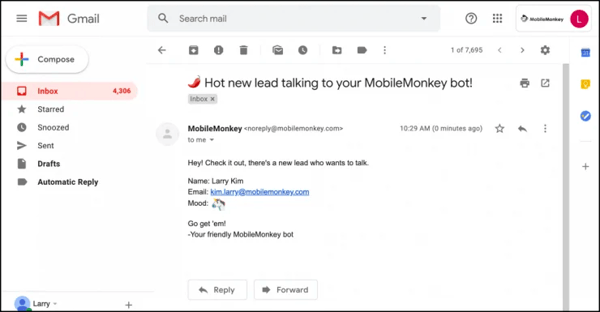 The email alerts will notify you that you have the potential to convert a lead into a customer!
Chatbot Marketing Tactics Activated. Agency Sales Strategies Ahead!
You're now equipped with 5 tools and tactics to easily integrate chatbots into your marketing methods.
With these powerful yet simple tools, your agency will stand out from the rest, attracting new clients and building lasting relationships.
Get to building chatbot marketing workflows and you'll be growing lead lists with exponential power in no time.
Next, you'll want to start selling bots to your current clients and your prospects.
For more on that, join me for a free training webinar on sales strategies for chatbot marketing services.
WSI was founded in 1995 and is an innovative digital marketing agency with offices in over 80 countries. We've spent over 20 years helping more than 100,000 companies and large global brands unlock the full potential of their business by leveraging the Internet and its many unrecognized opportunities. We'd be happy to help do the same for you and consult on your digital marketing strategy.  Simply give me a call or email me at rknutsen@wsiebizsolutions.net to learn more.
About the Author
Rick spent 20 years in the insurance industry in finance, primarily developing reporting platforms for B & C stakeholders.   His ability to speak to consumers of data (managers and analysts) and translate their needs to programmers led him to start his own digital marketing agency in 2004 to develop data driven solutions for business owners. 
The Best Digital Marketing Insight and Advice
The WSI Digital Marketing Blog is your go-to-place to get tips, tricks and best practices on all things digital marketing related. Check out our latest posts.
We are committed to protecting your privacy. For more info, please review our Privacy and Cookie Policies. You may unsubscribe at any time.
Don't stop the learning now!
Here are some other blog posts you may be interested in.