3 Tips for Healthy, High-Performing Email Newsletters
June 10, 2023
Editor's Note: This blog post was originally published in June 2017 and was updated with new content and updated stats on June 2023.
Most digital marketers send a periodical digest or newsletter to keep current and prospective customers updated. And that's a good move: According to HubSpot, there are 4 billion daily email users. And marketers find emails useful as well: 33% of marketers send weekly emails, and 26% send emails multiple times per month.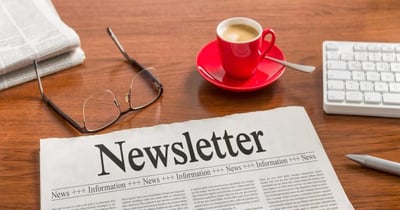 Since email newsletters are so commonly used by marketers and pretty well-received by consumers, this should add up to a happy ending, right? Well, not always. Because sometimes, your newsletters don't perform, and you may be at a loss as to why.
Imagine you've sent a newsletter to your contacts that you crafted with care. You're not worried; you've done this a hundred times before. But later, as you check the open, delivery, and click-through rates, it happens. You hear a figurative cough and sniffle. You feel the urge to grab a hot towel, a warm blanket, and some aspirin because your newsletter is sickly and underperforming.
It's an unhealthy newsletter.
Now there is no need to wish upon a star, spend a fortune on pharmaceuticals, or rely on an old wives' tale for the remedy. You need the right digital strategy to cure the newsletter's illness.
The e-Doctor Is In: Strategies for a Healthy Newsletter
1. Diagnose Your Contacts' Needs With Personas
Sometimes marketers are so excited to send emails that they forget who their audience is. The one-size-fits-all email strategy just doesn't cut it anymore. So what's a marketer to do?
The good news is that you don't have to work harder; you just have to work smarter. And crafting buyer personas is actually a helpful method for improving your e-newsletter performance.
Many marketing professionals already have buyer personas in place. And it's a great way to market and sell strategically. Think about it: Caroline, Customer Service, and Michael, Marketing Manager, have different needs and perspectives. So your communications with each should be different.
This strategy also applies to newsletters. If you know who is in your audience, then you'll know what to say to them and how to say it. Using the customizable personas feature found in many marketing automation platforms, it's easy to sort and segment your contacts into persona profiles. That way, it will be much simpler to understand your email audience, and you're on your way to higher engagement.
2. Optimizing Email Content
The heart of any email campaign is the content. You need to craft pieces of content that resonates with your audience and encourages them to take action. For instance, a weekly newsletter might share industry news and tips and promote your latest product or service. Monthly newsletters, on the other hand, might dig deeper into specific topics and offer exclusive insights or deals. Exploring email newsletter examples can provide some inspiration and insight into what works best for your industry and audience.
3. Prescribe the Right Content With Dynamic Emails.
Now that you know who you're speaking to, it's time to create the proper messaging. Often, e-newsletters don't perform well because the content is irrelevant to the recipients. According to one study, personalized promotional emails had 29% higher unique open rates and 41% more unique click-through rates. But creating customized emails for hundreds of recipients is a tall order. Who has time for that?
Well, you do. You actually have time to create meaningful, hyper-personalized messaging for each person on your email list. How? With dynamic email.
Most marketing automation platforms include dynamic email. It allows you to send personalized and relevant messages to your leads through a single email – and you can do it all without the help of a developer. Simply swap out entire phrases, images, and offers based on what you know about your contacts. Your open and click-through rates will be back to perfect health.
4. Email Design Considerations
Beyond content, the visual appeal of your email marketing campaigns plays a critical role in engagement. A clean, visually appealing design can help guide your audience through the content and towards your desired action. Design elements, like images, color schemes, fonts, and layout, should all be carefully considered. Make sure your design complements your content rather than detracting from it.
5. Keep Your E-Newsletter Healthy With Some Vitamin A/B
So once you've injected your emails with relevant content, it's time for the final step to fully restore your newsletter's health. For the best results, you'll want to A/B test your emails. By splitting up your email list, you can test and compare the performance of two emails side by side. Did one of the emails yield a higher open rate with its subject line? Did you have more unsubscribes from one email versus another?
A/B testing will give you the necessary information to make your newsletter as successful as possible. You can test and compare many variables, such as subject lines, graphics, and images, email templates, body copy, and calls to action. Keep your newsletters fresh and at optimum performance by taking the time to A/B test.
6. Understanding Different Types of Emails
There are various types of emails you can use in your email marketing campaigns, and each has a unique purpose. From promotional emails to informational company newsletters, the format you choose should align with your goals for the campaign. Understanding your email subscribers and their needs can help you tailor your email campaigns to their interests, which can boost engagement and conversion rates.
In conclusion, optimizing your email content, utilizing dynamic emails, employing a striking email design, understanding your audience, and consistent A/B testing are all essential for creating a powerful tool in the form of high-performing e-newsletters. By keeping these newsletter ideas in mind, you can ensure your email marketing tool serves its purpose effectively.
Cured! Your Newsletter Is in Tip-Top Shape
Congratulations, you've done it! Your newsletter is happy, healthy, and performing well. Be sure to know your audience, craft relevant messaging, and test, test, test! Marketing automation helps you do all of this and more so that you can keep your emails in prime condition. Happy emailing!
About the Author
Rick spent 20 years in the insurance industry in finance, primarily developing reporting platforms for B & C stakeholders.   His ability to speak to consumers of data (managers and analysts) and translate their needs to programmers led him to start his own digital marketing agency in 2004 to develop data driven solutions for business owners. 
The Best Digital Marketing Insight and Advice
The WSI Digital Marketing Blog is your go-to-place to get tips, tricks and best practices on all things digital marketing related. Check out our latest posts.
We are committed to protecting your privacy. For more info, please review our Privacy and Cookie Policies. You may unsubscribe at any time.
Don't stop the learning now!
Here are some other blog posts you may be interested in.