How to Provide Effective Customer Support on Twitter in 2019
June 17, 2019
According to Twitter, with over 3 billion people on social media, more consumers are using the social media platform to connect with businesses when they have questions, compliments, or complaints. Many brands and businesses have been turning to Twitter as a customer service platform. And with the rise of direct messaging and the use of chatbots, 2019 is the year to approach your business' marketing strategy with a customer care focus. What does this mean? It means being more proactive, using social data to shape interactions, and integrating customer care solutions into your business' marketing strategy. It's important and beneficial for you to understand why your customers want to chat and how it can change your business.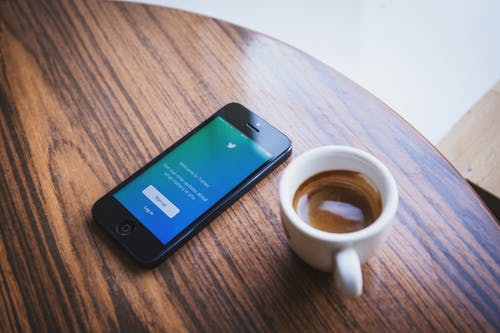 Here's how you can provide more effective customer support on Twitter in 2019:
Develop a Customer Support Strategy
First and foremost, come up with a well-defined customer support strategy. Set some time aside to brainstorm and develop a solid strategy to execute. Here are a few questions to keep in mind and address:
When will you respond?
Now that social media has the power to connect businesses with their customers in real-time, customers expect brands and businesses to respond in a timely manner, especially to customer service inquiries. According to Hubspot, 80% of customers expect companies to respond to their social media posts within 24 hours. Defining your response times plays an important part in providing effective customer support on Twitter. Chances are most businesses are not operating 24/7. Be transparent and communicate the times your customer support team will be responding to customer service requests.
An excellent example of this is the TTC Customer Service Twitter account. The customer support team clearly communicates and is transparent about their response times. The tweet outlining the response times is pinned to the top of the profile, making it highly visible for customers. They also provide alternative customer support contact information as you can see below.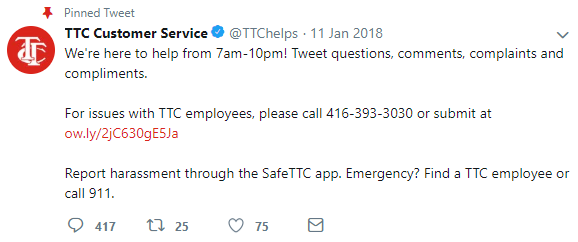 Since customers demand for relatively quick and immediate response time, the TTC Customer Service team does an excellent job updating their response times in real-time, even communicating when they're on their dinner breaks!

At the end of the day, a high level of responsiveness is an indicator that shows your business cares about your customers.
Who will respond?
Once you've established when you will respond, the next question you want to address is figuring out who will take on the responsibility of addressing customer support inquiries. Depending on the size of your business, you will need to define which department, team, or individual(s) will be responsible for taking on this role. Some companies have a team or department solely dedicated to providing customer service and support. Others delegate this responsibility to their marketing or communications team members. Interdepartmental communication can also help streamline your customer support strategy. Assigning specific team members to take on this role in "shifts" provides opportunities to be more efficient and diligent.
It may also be worth considering whether or not you want to keep your business' customer support inquiries separate from your main Twitter account. Some larger businesses have a separate Twitter account just for customer service and support.
Monitor Brand Mentions and Keywords
Don't forget to keep a close eye on Tweets to your accounts, whether they're brand mentions or product mentions. Monitoring and engaging with the right conversations help build the foundation for providing effective customer support on Twitter. Many businesses do an excellent job with this and don't let any interactions go unnoticed. It's especially important to capture these customer service opportunities as they arise to foster strong relationships with customers online.
Enable Direct Messaging for Your Twitter Account
Nowadays, more people are using direct messages for customer support over public announcements like mentioning or tagging in a tweet. Consider enabling your business' direct messaging (DM's) to provide more effective customer support on Twitter this year. Enabling DM's opens up a private channel for people to communicate with you. It also protects the privacy of your customers. This is important because in some cases, people may not feel comfortable publicly inquiring or raising an issue about your product or service. At times, some customer support inquiries may also require people to provide personal or sensitive information.
Enabling DM's paves a way for addressing more complex customer support issues. In return, it also allows you to engage at a more personal level, strengthening your relationships with customers. Did I mention that enabling direct messaging also allows customers to work with more characters? They're not limited the 280 character limit!
Enhance Your Interactions With a Touch of Personalization.
As much as customer care bots and chatbots are on the rise, advanced technologies like chatbots continue to rely on traditional marketing. Configuring chatbots is a complex process, especially on social media platforms like Twitter. In the meantime, try opting for personalization instead of generic templates to provide a more effective customer support experience.
ClassPass, a popular fitness membership subscription, is a great example of a business that opts for personalization instead of generic templates to address their customer service replies. According to Twitter's chat with ClassPass, all of ClassPass' customer support responses on Twitter are typed out and sent by a real person. As you can see below, ClassPass also personalizes their response by addressing the customer's name. Personalizing responses on Twitter builds stronger relationships, and it assures the customer that the response was genuinely written for them.
Many businesses are also adopting a more casual tone when addressing customer support on Twitter. This is a customer care trend that we are seeing more frequently across the board. Some brands and businesses are even incorporating the use of emojis to create a more personalized experience within their customer care strategy.
Don't hesitate to show a bit of humor, give customers a taste of your brand's personality, and engage in genuine interactions that reflect your customer care strategy.
---
Over the years, Twitter has evolved tremendously and it has become an excellent platform to connect with customers and collect product or service feedback. Don't be afraid to innovate on this social media platform and continue to drive new opportunities to provide more effective customer support on Twitter this year.
WSI was founded in 1995 and is an innovative digital marketing agency with offices in over 80 countries. We've spent over 20 years helping more than 100,000 companies and large global brands unlock the full potential of their business by leveraging the Internet and its many unrecognized opportunities. We'd be happy to help do the same for you and consult on your digital marketing strategy.  Simply give me a call or email me at rknutsen@wsiebizsolutions.net to learn more.
About the Author
Rick spent 20 years in the insurance industry in finance, primarily developing reporting platforms for B & C stakeholders.   His ability to speak to consumers of data (managers and analysts) and translate their needs to programmers led him to start his own digital marketing agency in 2004 to develop data driven solutions for business owners. 
The Best Digital Marketing Insight and Advice
The WSI Digital Marketing Blog is your go-to-place to get tips, tricks and best practices on all things digital marketing related. Check out our latest posts.
We are committed to protecting your privacy. For more info, please review our Privacy and Cookie Policies. You may unsubscribe at any time.
Don't stop the learning now!
Here are some other blog posts you may be interested in.